Our heating and cooling system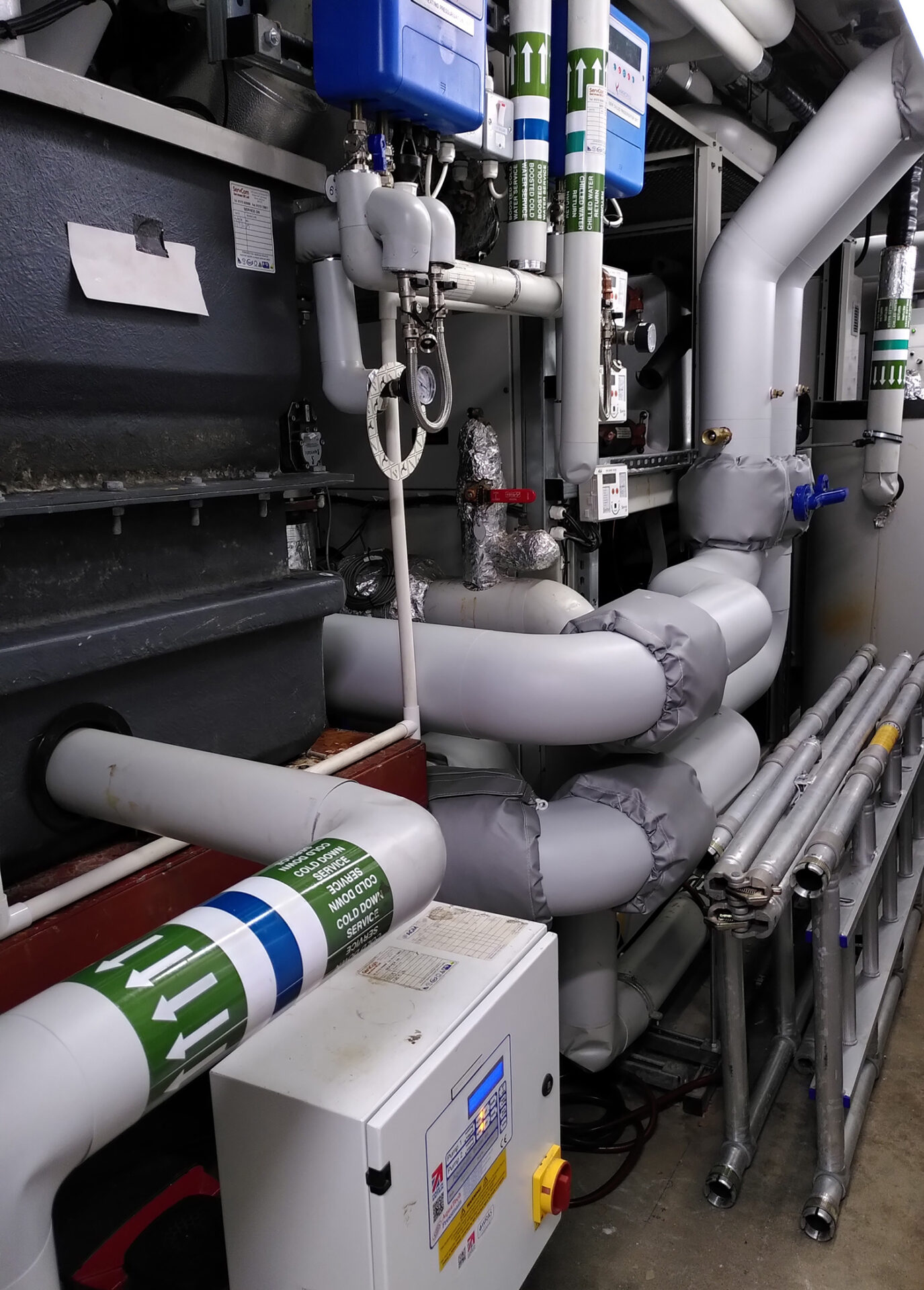 Dear customers,
Most of you may be aware that Depot has been struggling with its heating and cooling system for a very long time, since pre lockdown in fact (for those of you who remember those days!) The communications around this have been difficult as we had to go through many processes to find out what was going on. In this document we hope to give you some information to try and explain in broad terms what the issues have been. It is certainly not for want of trying that we are still dealing with this but you may wonder why it is taking so long to fix.
Sustainability is one of Depot's core values. At the design stage of the project we had already invested in many features to create a venue with the lowest possible environmental impact. One of these is an onsite Ground Source Heat Pump (GSHP) which draws natural heat from underground. It is an important source of renewable energy which helps reduce our dependence on fossil fuels, by not only supplying heating and cooling to our three cinema auditoria, but also providing underfloor heating and hot water throughout the building.
Once Depot was up and running we found that the GSHP was constantly turning itself off and raising alarms that something was not working well. We engaged top specialists in the UK to find out what the issues could be, and sadly learned that the design was poor and solutions difficult to pinpoint. It was actually suggested that we buy a new pump and reinstall it from scratch!
We have since been working with three different contractors who outlined extensive modifications and repairs starting at the beginning of 2020. For those of you who may have some knowledge and interest in this area: we installed a buffer tank on our roof to dump excess heat, we have added more BMS (Building Management System) control options, added new link pumps to enable energy source changeovers and made various other tweaks to the system.
Unfortunately, a number of issues prevented us from completing the work within a reasonable timeframe. The most significant being the COVID lockdowns throughout 2020 and 2021, which called for our specialist engineers to prioritise sites such as hospitals and care homes.
Furthermore, the ongoing ramifications of Brexit on international shipping of essential parts also played a big part in the delay of the repairs. Our contractors found themselves waiting in excess of six months on backorders for delivery, before they could even arrange for them to be installed.
We have now completed much of the work that was originally outlined and think that we are in the final stages prior to the system being recommissioned. It is absolutely crucial that the ground source heat pump does not break down again and to ensure this, our contractors have recommended a few final tests to ensure everything is working without fail.
We are very sorry for the endless inconvenience this has brought to you, our much valued and loyal customers. We hope that this explanation gives you some reassurance that fixing the pump is and has been a huge priority for us. We are pushing as hard as we can to get the problem resolved and hope to be able to send more positive news soon.
If you have any questions about the heat in our auditoria, please contact our box office at 01273 525354. We are happy to change your tickets to other dates, give refunds or help you make a decision in any way we can. The temperatures are displayed on each auditorium door as you go in, and we will also publicise these temperatures on the homepage of our website.
– The Team at Depot