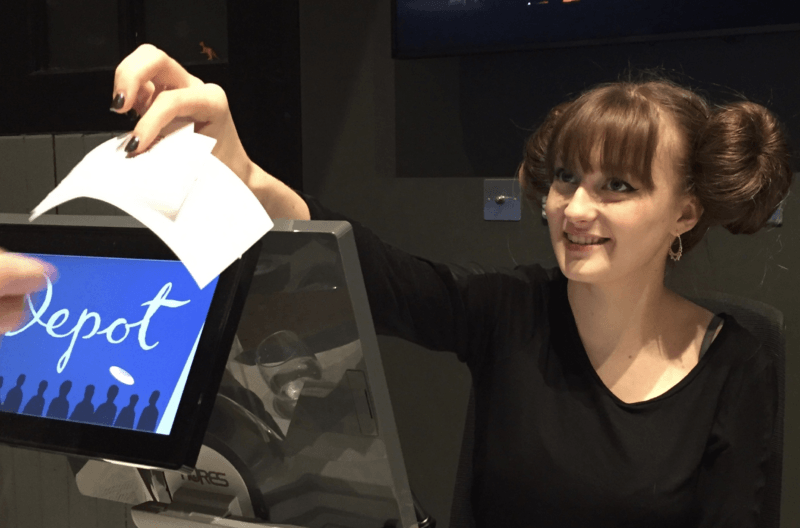 There are three ways to buy your Depot tickets:
Online: It's the easiest and quickest way to book. Find your film on our calendar, choose your seats and book!
In person: Visit our box office
By phone: Call 01273 525354
For more information you can also email.
Prices
Mon – Thurs before 5pm £7
Mon – Thurs after 5pm £9
Fri – Sun all day £10
Young people under 25, any time £5
Concessions* £5
Carers with CEA Card holder free (please book in person or by telephone, no booking fee)
Live Arts events £25 (Other special events may be priced separately, concession and young person rates may not apply)
Babies (less than 12 months) are only allowed to attend our special Parent and Baby screenings.
* Concessions are for people registered unemployed and people on Universal Credit, DLA or PIP benefit (proof required).
See our Terms of Admittance
E-gift cards are available online. They can be preloaded with any monetary amount and can only be used to purchase cinema tickets.
Gift vouchers can be purchased in person (cash/card) or by telephone (card only) – call (01273) 525354 during box office opening hours (Mon – Fri 09:15 – 20.30, Sat & Sun 10:15 – 20:30). For an additional £2.50 we can send gift vouchers by recorded post to any UK address. Gift vouchers are available in one Adult ticket or one Under 25s ticket denominations.