Jordan's face lights up when she talks about her role at Depot. She relishes each day and is keen to convey just how exciting it is to part of the new project.
Jordan also loves the reaction of the public as they come through the Depot doors for the first time. She says there's an almost audible 'wow' as they survey their surrounds and approach the Box Office.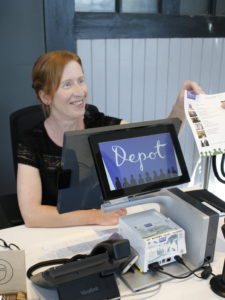 Her interest in cinema goes back to her time studying a media/English degree at the University of St Mark & St John (now Plymouth Marjon University). Alongside her studies Jordan chaired film clubs, something that cemented her ongoing love of the classics genre.
In her favoured genre Jordan cities One Flew Over the Cuckoo's Nest and La Strada as two films she was excited to see recently screened at Depot.
But Jordan's passion for all things celluloid stretches to recent Depot showings of Berlin Syndrome, Who's Gonna Love Me Now, The Levelling and Wonder Woman. See lewesdepot.org for details.