Bump into Oliver 'Ollie' Burton at Depot and you'll be greeted by a smile and welcome that makes you feel instantly at home. He enthuses a genuine interest in people and films. He's found his calling and Depot film-goers can only benefit by having a chat with Ollie when visiting his Box Office work station.
Ollie first became aware of Depot when it was still a work in progress. He spied the ongoing building work at what had once been Harveys Brewery depot site in Pinwell Road, Lewes.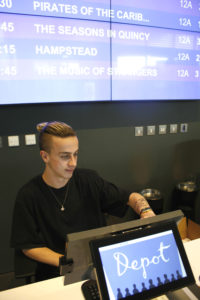 He did his research and found the newly created Depot cinema was recruiting, and an interview later Ollie had landed his dream job as part of the front of house Box Office staff.
Ollie is one of a number of staff who have a particular passion for the film genre of anime (Japanese hand-drawn or computer animation) and gets excited when discussing the recent Depot extended screening of The Red Turtle.
His love of the Japanese genre came via titles such as Spirited Away (2001 Japanese animated film) and Sword Of The Stranger (2007 Japanese anime film). But Ollie hopes to use his time at Depot to expand his cinematic interests.
Ollie challenged himself and took in a recent Depot showing of the more mainstream My Cousin Rachel. He loved it. So next step was a female-fronted Hollywood blockbuster that drew in the crowds at Depot. Wonder Woman tickled Ollie's fancy and he admits he found it 'fun'.
So Ollie's enthusiasm and personable nature is of benefit to Depot. And Depot's growing reputation for interesting and eclectic programming is giving Ollie a more rounded understanding of the film business.
Ollie's forthcoming Depot recommendations are Cure for Wellness and Kedi. Both these titles and more can be found at lewesdepot.org