Sat 9 Sept
Chris Difford, co-founder of legendary band Squeeze, will be at Depot this Saturday (9 September) to launch his new autobiography, Some Fantastic Place: My Life In and Out of Squeeze.
The singer, songwriter and musician will be in conversation with writer and broadcaster Peter Curran, talking about his three decades in the music industry.
The Squeeze lyricist and member has made a lasting contribution to English music with hits such as 'Cool For Cats', 'Up The Junction', 'Labelled With Love', 'Hourglass' and 'Tempted'. Over the course of a thirteen-album career with Squeeze, it was clear from the very beginning that Difford has few peers when it comes to smart, pithy lyricism. His influence is keenly felt today; the likes of Lily Allen. Mark Ronson, Kasabian, Razorlight and many more have recognized the debt they owe to Squeeze's music and to Difford's way with words, while journalists were moved by his winning combination with Glenn Tilbrook to dub the pair 'The New Lennon and McCartney'.
In Some Fantastic Place, Chris Difford charts his life from his early days as a dreaming boy in south London with a talent for poetry to becoming a member of one of Britain's greatest bands and beyond. Along the way he reveals the inspiration and stories behind Squeeze's best-known songs, and his greatest highs and lows from over four decades of making music.
This free event takes place at Depot from 17:00 – 19:00 on Saturday 9th September.
Some Fantastic Place: My Life In and Out of Squeeze is published by Orion, price £20 (RRP).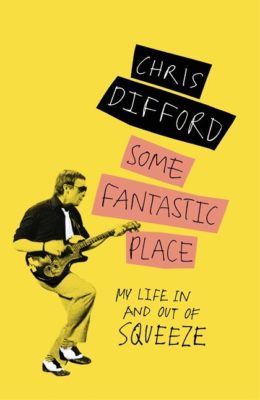 Praise for Some Fantastic Place
With hilarious honesty, Squeeze's frontman reveals how his pop career went well and truly Up The Junction! – Mail on Sunday
As anyone who has listened to "Cool for Cats" or "Up the Junction" will know, Difford's lyrics are superb at noticing the unconscious poetry of everyday life, and the early chapters of this book are tightly packed with the sights, the sounds and especially the smells of his childhood." – Robert Douglas-Fairhurst, The Guardian
Loving the Chris Difford autobiography. "Dad said if I joined a rock band I'd be an alcoholic, drug addict & skint. Turns out he was right." – David Hepworth
A witty, charming, acutely observed and astonishingly honest account of what it's like to be a successful musician. I was gripped and fascinated, – Mark Ellen