Sundays in April
On alternative Sundays in April, Depot will present a trilogy of epic films by the Italian director Sergio Leone and the Italian composer Ennio Morricone, considered by many as the finest collaboration in movie history.
The Good, the Bad and the Ugly (1966) is the final film in Leone's 'Dollars' trilogy, an epic spaghetti western with a series of stunningly realised scenes laced with savage irony, laconic dialogue and striking visuals. Featuring Clint Eastwood in his prime, the film appears on many polls as one of the ten best films ever made … and the iconic Morricone score concludes with one of cinema's most famous endings.
Now an international name, Leone went on to make Once Upon A Time in the West (1968) with a stellar cast which included an uncharacteristically sadistic Henry Fonda. Written by the Italian directors Bernardo Bertolluci and Dario Argento and shot partly in Monument Valley, this violent yet elegiac western features one of the most famous pre-credit scenes in history, a powerful climax, brilliant direction – but, above all, arguably the best musical score ever written for a movie.
In 1971 they collaborated again on the movie A Fistful of Dynamite, the last Western directed by Leone. Featuring Rod Steiger and James Coburn, it is one of Leone's most complex films, evolving from a comedy into a sombre exploration of revolution and betrayal. The Irish flashback sequences feature one of Morricone's most famous and elegiac arias.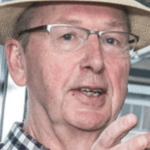 All three films will all be shown in digitally restored prints, with introductions by Robert Senior from Lewes Community Screen.
Tickets go on sale soon.