Talking movies with Anthony Gates is akin to sitting in on a cinematic masterclass. He makes films, teaches film and writes about film. Anthony Gates has not just landed a job at Depot .. he has walked through the golden gates and stumbled upon his own private nirvana.
But perhaps 'private' is the wrong word, for Anthony wants to make his passion public. He wants to impart his cinematic love and knowledge to children and adults. Depot will soon launch educational courses, and Anthony has a plethora of ideas to how this can be best achieved.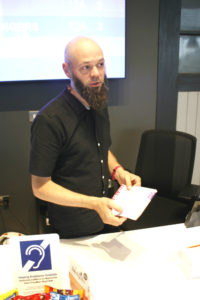 Anthony currently divides his time between Depot and Sussex Downs College, the latter being the place where he first made contact with Carmen Slijpen (Depot's Creative Director). It was a short three years ago, and their professional friendship lead to Anthony securing an interview and his eventual position of Depot Duty Manager
Despite listing his favourite movie genres as horror, Asian and Japanese (Kung-fu), with a particular passion for anime, his favourite film of all time is Robocop. This he cites as a film that at his then tender age of fourteen affected him on many levels (humour, satire and vengeance among them).
Another film on his long list of all time favourites is The Texas Chainsaw Massacre, which was his eureka moment to how cinema could be a form of craftsmanship that both affects and informs.
Anthony Gates' recommendations for forthcoming films to catch at Depot are The Graduate and Sympathy For Mr Vengeance. He knows his movies, check them out …..