Passion oozes from George Pearl's every pore. Whether it be cinema, or work, or leisure, his larger than life character is both mesmerising and intoxicating.
George originally applied for the post of Depot Bar Manager, but at the interview stage his enthusiasm and engaging nature meant he was better suited to a customer services role.
Earlier in life George wanted to be an actor. He applied to, and was accepted by, a university and was excited by the prospect of studying theatre and film.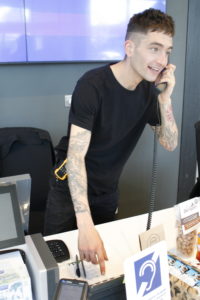 But a gust of wanderlust blew in and soon the winds of change carried him as far as New Zealand, where, among other things, he spent one year teaching drama at a school. He also secured employment as a Bar Manager and worked in entertainment.
George is a big book fan. Through the printed word he became a devotee of the Harry Potter phenomenon, though he took longer to be won over by the big screen adaptations of the JK Rowling series.
Since joining the Depot team one of George's favourite discoveries has been the cinema's commitment to the popular genre of anime (style of Japanese film and television animation). He likes how the animations are often subtle in their delivery of positive political and environmental messages. From the genre he recommends The Red Turtle (at Depot from Friday 16th to Thursday 22nd) , which tells the story of a man who becomes shipwrecked on a deserted island and meets a giant red turtle (which is later revealed to be a woman).
It's not often a single film can be life changing. But for George Earthlings was just that. The Joaquin Phoenix narrated documentary includes footage obtained through the use of hidden cameras to chronicle the day-to-day practices of some of the largest industries in the world, all of which rely on animals. It draws parallels between racism, sexism, and speciesism. Philosopher Tom Regan remarked, "For those who watch Earthlings, the world will never be the same."
George's forthcoming Depot recommendation is Get Out, which blends race-savvy satire with horror to especially potent effect. The film plays at Depot from Thursday 16th June until Wednesday 21st June.